Last night was Jamie's 21 st birthday and oh boy did we have fun. The night started off at dinner at which all the 4 th cohort iSchoolers looked damn hot all dressed up. I had my tie on, like promised, and we all were dressed up for the ceremonial occasion. Dinner was a good time to just sit, chill, and to talk to some new people that I had just meet that night and to some that I had only met briefly previously. But, dinner was just the beginning… So, being the good person that I am, I suggested that we go out to a bar seeing that Jamie was now 21 and she was not carded at dinner. I figured she should at least get carded on her birthday and get a few drinks. So, we head up to Earl's, on a Monday.
Earl's, on a friggin Monday, is pretty slow. It was nice and laid back, which was nice for a change, and we had a kickin' time at the bar. Had a few beers and mixed drinks and then I proceeded drank whatever else was still around that people did not want to drink. Can't let it all go to waste.
This was probably one of the better times that I have had going out. The people were way cool and we had just a sweet time. I mean I never thought that I'd be out with the people in the Info program or even becoming such good friends with the people in my major. But, needless to say, I'm glad that I am.
Now, today was another story, but I'll just say that the focus was not there in class today. It was not that I was hungover or anytning, but going out made the weekend seem that much longer and focusing in class was not exactly high on my list of things to do today. But, last night was a really good time and it's always nice to go out and do something special on a birthday, even if is not your own.
Here are some pics from last night, as promised.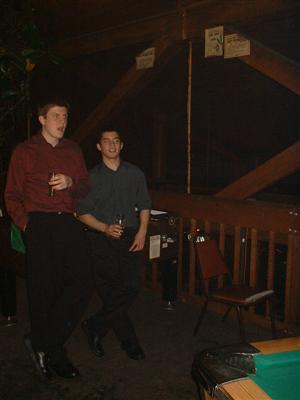 This is me and Anthony looking all hot and stuff last night. The ladies we were with thought we looked pretty hot in that 'pose' so multiple pictures were taken.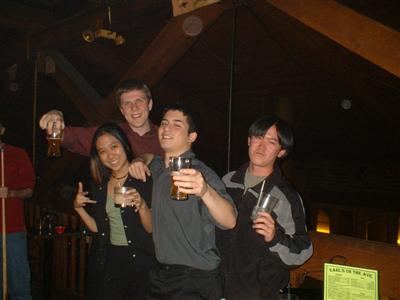 This is our lab group (minus Kevin) and this was the picture that we put on the cover of our report with the phrase: "Alcohol is open source. Let the good times roll!"
Current Feeling/Emotion: Energetic and Happy
Note: To see more pics from this night look here