Yesterday was the last day of class for the Informatics folks as an entire cohort. It was kind of weird to know that INFO 370 would be the last class that we all will take together. *tear* But, have no fear! We went out to celebrate such a momentous occasion by going to Red Robin… or so we thought.
However, before we headed out to Red Robin a few of us hung out at my place for about an hour. David, Jamie, and "Tho like Pho" watched Naruto. I provided them some chips and my mother's salsa. Which, the consensus thought, was pretty damn good. Kony said he wanted more of it. So, I'll have to look into that.
Once it was that time to head over, we left my place and made the long journey to Red Robin. As usual, the service was great for such a large group. They split the checks without any problems. It was just a good experience. But, I am getting ahead of myself.
For some reason we always have something going on at the end of the quarter. It is kind of our last chance to hang out for a while as a large group and we wanted to make the most of it. So, of course, we take pictures to remember the evening. Some of them are good, some of them are not so good. But, nevertheless, I will present the night in pictures for you all.
First we arrived at Red Robin. We had like 20ish people there of the 4th cohort plus some significant others, plus Derek from the 5th cohort. Not a bad turnout if I say so myself. After this, we ordered drinks. As you can see, Kat got this freakin' huge drink that was like half the size of her arm. She was pretty proud of herself for ordering such a large drink. I know that Kevin helped her out with it, but man, that drink was huge.
Then we just sat around a bit and waited for the food to arrive. It ended up being a competition between tables since we were being served by two different people. When the fries came out before the food, they got napkins and we got the dipping sauce. We really got the better end of the deal on that one. Eventually, Trevor needed a napkin so he traded our highly used ranch (one of three mind you) for a napkin.
After we were done eating it was about time to give "Tho like Pho" his cake. Hence, the real reason to go to RR in the first place. For "Tho like Pho!" He's turning 22 on Saturday! He was pretty surprised that we had done anything, let alone with all of these people. It was also kind of funny that Rufino and Zion had impeccable timing to head outside for a smoke. They missed both of the birthday songs! However, the one done by the Red Robin crew was pretty funny because they gave the sundae to Jamie. Must have thought it was the shortest person's birthday. Anyways… here's "Tho like Pho" blowing out his cake!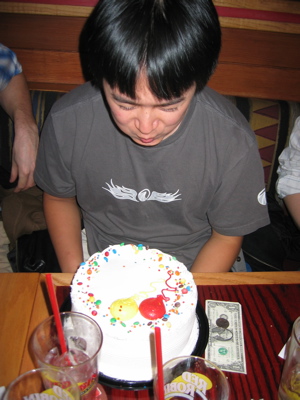 After the songs and presentation of the cake we kind of just sat around for a while screwing off. Trevor did a little salsa dance with the salt for the fries that was simply priceless. However, no pictures of that magical moment. However, I did catch him in the act of holding hans. Oh, the insanity! I mean, look at Trevor, he was all over last night getting hand play from like everybody. First David, then Anthony! Oh, my!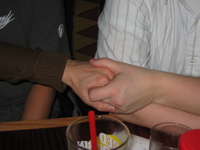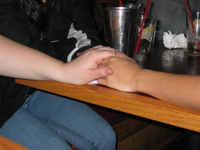 Once our time was up at Red Robin we had to head out and decide on what to do next. Of course it is raining outside (silly Seattle) and Rufino has to pull a Boiko and gauge everybody's interest. What follows is our salute to Boiko…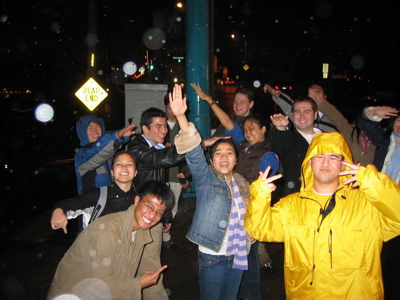 It was decided upon that we would head out to karaoke the night away. Luckily we had three cars so it was easy to get downtown. I mean, it was easy once we finally got Jamie's keys after sitting outside her place waiting for Jules to come. Yeah, she locked herself out. Don't ask. It just happens.
However, after we got to the International District Susan busted out her VIP card at the karaoke place and was like *BOW!* So, that was pretty rad. That took most of us off guard. But, they got us squared away in a room and the "singing" began. David and I started off on a lovely little number that I don't remember the name of but I am sure I'll edit this later and put it in Vanessa Carlton "A Thousand Miles." It was very passionate and I could feel the love between us when we sang. I'm sure Teresa and Jamie love hearing that. But, anyways, here's a picture of us showing our passion and fire for.. each.. other.. or something.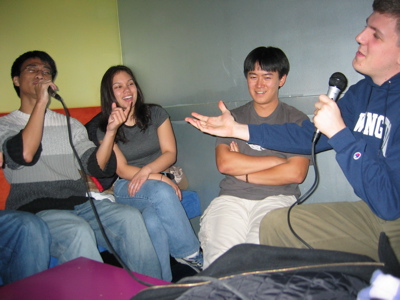 Once it reached about midnight a few of us needed to head out so that we could get home at a decent hour for work the next day. But, the entire night was pretty cool. I'm glad that so many people made it out to dinner to just relax and have a good time. We really only have one more thing left to do this quarter and I think I am going to start on it once I get this post finished up. But, it was a good way to end the quarter. So, with that, I present to you a good faction of the 4th cohort plus miscellaneous others: