Again I have this week's doing for you all to either enjoy or to skip. To sum it up, this week was better than last week.

Saturday, May 1st
Well, this day was mostly occupied by a 21 run for Casey. She was way excited to be going out and I was excited to be there to see it. I was fighting the beginnings of a cold so I didn't quite party like the rest of them, but it was still a good time. Dinner at Tandoor was pretty good. I haven't have Indian food in a while and the food there was actually quite good.
The people that were there made it a fun time, until some politics got brought up and I just had enough of it and took myself out of the situation. I calmed down and then the night continued on.
We started out at the Irish Emigrant and then down the street to Earl's and lastly at Finn MacCool's. After we were done at the bars it was time for a little late night snack across the street at Burger Hut. This is where the night pretty much ended. You all can imagine what happened next, so I won't divulge the details.
Sunday, May 2nd
The aftermath of the night before had left me at Jamie's overnight and then for much of the early afternoon. After I went home I really didn't do anything too exciting. Played a little CS in the evening with the clanuw crew, then it was more time with the lady.
Monday, May 3rd
Work, Lunch, Class, Lady Time, Soccer, Study. That is pretty much the order of business that day. Low key, but enjoyable.
We had out last regular season soccer game for the IMA intramurals and, well, we lost. But, hey, it was a good time. Or, at least I thought so. The first playoff game is this week and maybe we'll finally score a goal!
Tuesday, May 4th
Today is when the studying began to kick in for the week. I really did not do much else this day since I had an exam the next day. I did, however, go to lunch at the newly opened Chipolte in the U-District. There was business that needed to be taken care of at lunch with Jamie and Anthony for our INFO 310 class.
After lunch it was midterm studying at Anthony's for around 4 hours. Not all of it was spent studying, but most of it was. The test was going to be in our databases class and I was pretty sure that I would be able to do well in that test. So, after going chapter by chapter in the book, I decided to head home to get some food and then to study some more.
Wednesday, May 5th
This was test day. I felt prepared for the test and it was actually easier than I thought it could have been. This is not to say that I aced it, but it was easier than expected. It was less on terminology and more on application of the terms. This was good since I knew the terms, but it also made me realize that the time spend on memorizing the terms was not really needed. In either case the after test treat was hanging out at Jamie's then heading off to QFC for some Cinco de Mayo food purchasing.
That night I had some friends over for some quesadillas made by Jamie. They were actually very good and I have been eating them as leftovers for the past day. I mean, they taste better than they look: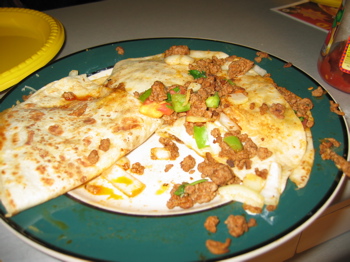 Also, here's the dinner crew minus Aaron and his girlfriend Kelly.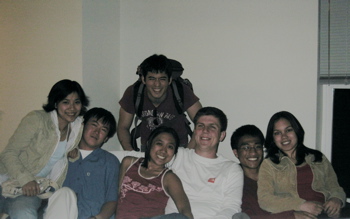 Thursday, May 6th
This day was interesting. Professor for one of our classes decided to change a due date on a draft of our course project to be due 5 days earlier. This threw us all off but needless to say I am ready for it. This day was all about school, as can be seen from looking at my calendar for this day. Class, Study, Lunch, Class, Study, Meeting w/ Dean, Work.
Problem is that after I got home I just needed some time with the lady to talk some things through. She was more than kind enough to come over and I must say, it's been one of the best conversations to date. But, I'll let that be what it was.
Friday, May 7th
No classes today! Yeah, the Information School did not have class today so that we would be available to attend the Curriculum Transformation Project. Well, I did not make it out to attend this, so I made up for it by tying up some loose ends around my place and just getting ready for work.
After work it was off to see Van Helsing. The movie was good until the last 20 minutes or so when it just got cheesy. It was nice to go see it with Anthony and Kathryn. But, yeah, the movie was good. I don't know if I'd say go see it, but it was decent.
And with all that said… I'm off to sleep.